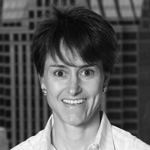 We couldn't be more excited that Rudy Scarito joined the Blackburn team as our Strategy and Finance Leader. As an investment banker for 30 years, she has extensive experience structuring private placements of equity and debt ranging from $5 million to $100 million. Rudy has also completed numerous mergers and acquisitions transactions for middle-market companies with a specific focus on companies with environmental missions. She graduated from Dartmouth College, cum laude, and earned an MBA from Harvard University. Laynie sat down with her recently to talk with her about her background in finance, her passion for sustainable companies and her vision for Blackburn as the Strategy & Finance Leader.
Can you please describe your background and career trajectory in investment banking?
I've been an investment banker for my entire career--more than thirty years. I started in New York at Lehman Brothers after graduating from Dartmouth College in the late 1980s. I was hired directly into the Mergers and Acquisitions Department at Lehman. Between that experience and my subsequent position at Goldman Sachs, I learned M&A and equity capital markets at global firms. Our clients were large, multinational clients that had broad-based financing needs. Some wanted to sell, some needed equity and others needed debt. So my opportunity to learn about all those strategies and products was incredible during the first ten years of my career.
The next ten years of my career gave me exposure to the other end of the corporate spectrum: smaller companies with valuation of $100 million or less. Very few of these companies were public or multinational. They were mostly US-based companies that were growing. I focused on raising capital, equity and debt but for private companies which is a different discipline and required a different process. It still involves trying to understand the valuation of the company, but the process of raising the capital is different and can be more difficult, in my opinion.
How did you come to specialize in investment banking for companies with environmental goals?
Eventually I was hired to be the senior investment banker in an industry that was beginning to be called "Sustainability." I focused on companies that were involved in recycling, alternative energy, pollution control and advanced materials, among others. The Sustainability industry is all about optimizing resources to make the world safer and more sustainable. For example, recycling is a sub-industry within the broader category of Sustainability. Recycling is about taking waste products whether it's scrap metal, an old tire, shoes or glass that have been used and finding value in it. So in theory these are waste products but if you can find a counterparty who can use and repurpose this waste material in a productive way, you can create entirely new value streams.
During that time, one of my clients was a company that was trying to minimize pollution in the trucking industry by retrofitting trucks with diesel particulate filters ("DPF's"). DPF's are filters that capture all the soot that comes out of a diesel engine. Prior to 2007, truck engines were not required to have any filter. So I worked on an acquisition where my client wanted to buy a company that made diesel particulate filters and retrofit them on trucks. We had to negotiate the acquisition and raise the capital to finance it. From there I started to get more involved in pollution control while gaining more experience within the trucking industry.
I've always been interested in Sustainability because it just makes sense. Why would you just dump things into a landfill, pollute or waste water if there is another value stream that can help optimize these discarded resources? We work with lots of companies that embrace these themes to help them raise capital and succeed.
How did you learn about Blackburn Energy?
I met Andrew [Amigo, Founder & CEO of Blackburn] at an event just after I started my own firm about 10 years ago. Since I had worked a lot in the trucking industry, his ideas and his product RelGen really resonated with me. We became friendly and now we finally have a chance to work together. I can help with capital raising, valuation skills from the mergers and acquisitions discipline and help out generally based on my experience as an investment banker. In our business, you get one year smarter with every year that goes by. It's an apprenticeship in the sense that the oldest professionals tend to be the best. You get better by watching and participating in the markets.
What makes you so passionate about your work?
I get to work with really smart people. And people who have a vision for something great and an intense passion to execute on it. They give up their current career in which they've invested a lot of time, effort and sweat equity. They give it up because they have a bigger vision and passion for something that can be world-changing.
Andrew is taking a risk. He's risking his whole career and his family is taking risk alongside him. He's sweating it out every day using brain power, physical power and emotional power. That's what makes this work exciting. I am not inherently a risk-taker and certainly not in that magnitude, so I admire the people who are risk takers and change the world forever. I like being part of this in the little way I can.
The goal of any entrepreneur is to do well financially while maintaining a good reputation and high visibility. But if you can do good for the world and for others while you succeed, that's the best of all. So I was drawn to Blackburn because of the combination of my being familiar with the actual work that Blackburn is doing and the social and environmental benefits that are a part of its mission.
As Blackburn's Strategy and Finance Leader, what is your vision for Blackburn?
When Blackburn becomes fully commercial in great scale, we will have succeeded in creating another recycling play on a global level. We are taking wasted energy that is otherwise disappearing into thin air, capturing it and converting it into electrical power that can be reused. It saves money, fuel, wear and tear on engines and drivers. The global market for Blackburn's technology and its applications are gigantic. What Andrew and the team are undertaking is amazing.
The company already has commercial traction. We are selling RelGen to the heavy-duty trucking industry now. Our first step is prosecuting the opportunity in heavy-duty trucking. I'm looking forward to showing that we have penetrated that market with RelGen units that are saving lots of fuel and collecting lots of performance data on trucks. After that there are so many additional verticals that we can pursue: ocean-going vessels, mining equipment, autonomous vehicles and green buildings are just a few examples of how big this opportunity can be.